2023 has brought more and more opportunities for doctors and online healthcare practices to create a larger patient base, improve their online presence, and provide their medical services in a more reformed way. One of the fastest-growing and most popular strategies for doctors to do that is to introduce mobile health apps.
Some apps, for example, are intended for remote patient monitoring to reduce clinic visits while maintaining doctor-patient communication. Other apps allow patients to manage and discuss their medical issues with doctors, pharmacies, and even health insurance providers.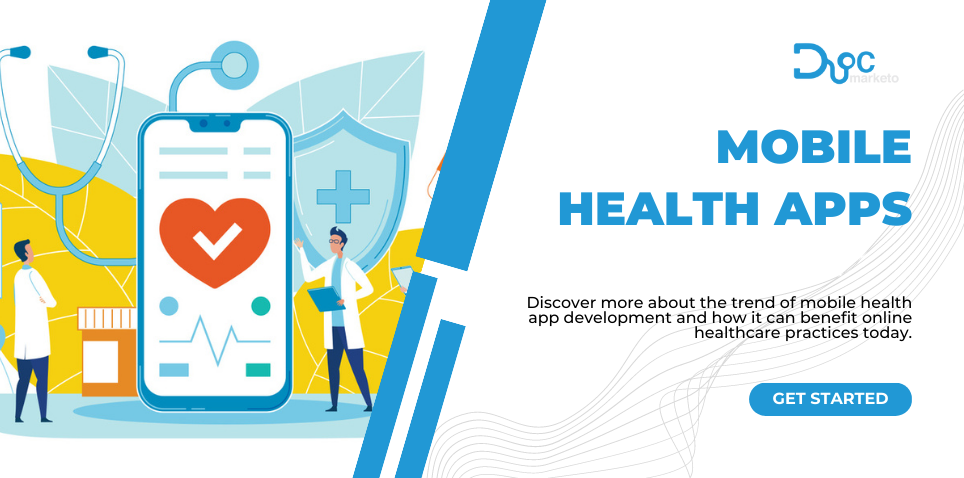 Besides, with so many competitors rising in the online healthcare field, doctors need to provide an efficient, smooth, and accessible way to offer healthcare to their patients so they can continue retaining the existing ones and attract more potential patients to become part of their s loyal patient base. This is why it's important to take a closer look at the trend of mobile health app development and how it can benefit online healthcare practices today.
What are Mobile Health Apps?
Mobile health applications or apps are medical and public health practices that are supported by smartphones, tablets, watches, or other mobile communication devices. They provide a virtual and creative approach to delivering healthcare services outside of standard care facilities. Not only do these apps allow doctors to provide individualized healthcare to all their patients, but they also collect and organize valuable patient data, manage fast payments, and improve patient engagement with medical services. Mobile health apps typically fall into four categories:
Clinical and Diagnostic Apps: Help doctors and practitioners manage clinical practice and medical exams.
Telemedicine Apps: Assist doctors in providing virtual patient care.
Health Management Apps: Allow patients to analyze their health problems such as diabetes, mental health, cholesterol level, heart rate, and more.
Wellness and Fitness Apps: Help patients improve their quality of life by managing sleep, diet, stress, fitness, etc.
Do Mobile Health Apps Affect the Future of Online Medical Businesses?
The introduction of mobile health apps has seen an overwhelmingly positive response from doctors and patients alike which has enabled researchers and developers to use new, cutting-edge technology such as gyroscopes, accelerometers, AI, and machine learning, which can lead to more advanced, accurate, and efficient apps in the future.
According to Apple Store and Google Play, there are more than 200 health apps being launched every day, which has led experts to estimate that the mobile health app and medical industry would earn roughly $11 billion by 2025. With such potential for growth, not only will these apps allow doctors to provide more organized, efficient, and fast medical services to their patients, but also create room for accommodating a wider patient base as their medical businesses grow and expand.
Six Ways How Mobile Health Apps Benefit Doctors and Patients
Mobile healthcare is revolutionizing the medical industry and with new updates and developments being introduced every day, it's essential for doctors to consider developing their own apps for their patient base as well. Here are some top benefits of medical health apps for both doctors and their patients:
1. Improved Medical Data Collection
Mobile health apps, particularly those that provide online health records via smart wearables such as watches or phones allow healthcare practices to access the medical data of their patients with just a click. This enables them to make more thorough, educated, and prompt medical judgments. Patients can also access, organize, and keep their own medical records in an accessible location for improved self-care. These apps can also enhance the general well-being of patients by collecting data and identifying changes in overall health before they become critical.
2. Lower Costs for Both Healthcare Practices and Patients
Virtual care services, such as telemedicine and telehealth, improve cost-effectiveness not just for healthcare providers but also for their patients. With simple check-ups or follow-up questions that can be done virtually, both doctors and patients save time and money. In general, mobile health apps minimize needless procedures and care costs by minimizing the chance of developing avoidable medical problems and hospital readmission fees.
3. Allow Smoother Communication Between Doctors and Patients
It's important for doctors to develop clear, accurate, and timely interactions with their patients to maintain patient engagement and satisfaction. This is done to provide better patient care while reducing medical misconduct. While traditional in-person communication can sometimes result in misunderstanding or miscommunication, mobile health apps have the potential to be a more efficient bridge of communication by providing various platforms and options to allow patients to reach out to their doctors easily and on time and vice versa.
4. Easy Payments
Dealing with invoices in person has always been a time-consuming procedure for both patients and medical staff. However, patients no longer have to wait in long lines for hours to make payments with mobile healthcare apps. A highly accessible and featured app allows a completely secure payment-integrated gateway that enables patients to make quick and direct payments with a few clicks. They can also choose their preferred payment options including online payment which is done through debit or credit card or and connect to their insurer to the app.
5. Increase Patient Engagement
Quality medical care is more essential than ever in today's patient-centered environment. Mobile health apps induce patient engagement rates by providing successful individualized treatment, tailored experiences, and efficient information sharing between doctors and patients. Patients may access and monitor their medical records/prescription data from the comfort of their own homes, reducing the need to visit clinics or hospitals. This level of personalized and efficient medical care adds to the authority of an online medical business and has a strong retention impact on the patients.
6. Provide Immediate Access to Medical Care
When patients reach out to doctors or healthcare practices, they often prove to be an unsatisfactory and hassling experience. However, mobile health apps completely eliminate and allow patients to send/receive messages, schedule appointments, and connect to medical care providers 24/7 for telemedicine visits in a simple and secure manner.
To prevent clinic or hospital visits for every minor concern, patients can ask their inquiries via video calls, chats, or phone conversations, allowing for immediate access to medical care in an efficient way.
Expand Your Healthcare Practice With Virtual Care
Through mobile health app solutions, the healthcare industry has enhanced its patient-centered strategy and is sustaining health while offering a seamless user experience. DocMarketo offers a high-end mobile health app development service to doctors and online medical businesses to develop an accessible and unique health app that allows improved communication between doctors and patients, benefits hospital personnel such as nurses and technicians, monitors patients' conditions, manages medical data, ensures fast payments and appointment set-ups, and more.